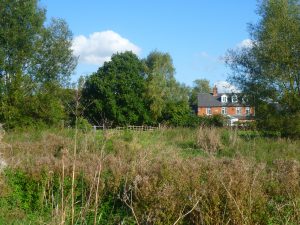 Great Glen Community Wildspace is run by a group of local people in and around Great Glen who are passionate about the natural environment and the need for wildlife to have a space close to where people live and work. We help to maintain and manage several green open spaces in the village which provide places to relax and observe the natural world.
It all started in 2005, around the time when the A6 Great Glen bypass scheme was completed. There was an open space of land on the edge of the village near the Archers roundabout that was part of a flood alleviation scheme that had been planted with indigenous species of plants, including willows and reeds. It was becoming a haven for birds and other wildlife.
Several people were inspired to develop the space into a community resource that would not only continue to support the wildlife but also be an interesting place for local people to walk and enjoy the green space. In the following years a Steering Group was formed which includes experts on wildlife and land management and volunteer teams have been organised that regularly meet to manage the sites. The group is supported by both Great Glen Parish and Harborough District Councils and particularly wants to encourage younger people to participate in development of this area. A collaborative with St Cuthberts Primary School in Great Glen was  established early in the project with this aim in mind.